Perry's Vashon Burgers Movin' On
When you think burgers who do you think about? If you are old school, you might be thinking The Malt Shop.. The Meyers and DQ, Zombies perhaps… even the Island Queen… me? I think Perry's Vashon Burgers. Phil and Perry have been slingin' the goods for hell, 15+ years I think… Phil, can (and will) correct me.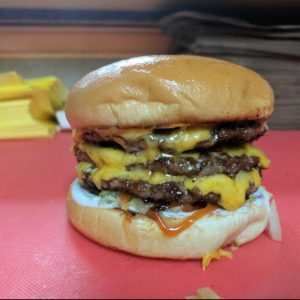 This is the reason why it pains me beyond belief when I hear that Phil and Perry will be leaving us soon. Us meaning… The island. I will let Phil tell ya the reasons why, but honestly the reasons he told me confirm what I have been thinking for a long, long time. Our island is changing. There is little we can do to stop it. However, that being said, I think that the world is changing as well… it's not just Vashon. We tend to think that all of the changes we see are island related, but really the PNW has changed dramatically over the last 10-20 years.
When I talk to my cousins who live in Minnesota, they don't see this dramatic change… they see change, but not the explosive change that we are seeing around us here in Western Washington. It's sad.
Please support Phil and Perry during these last months. Help send them off with our business. There is a silver lining in this cloud… I will let Phil tell you what that is.